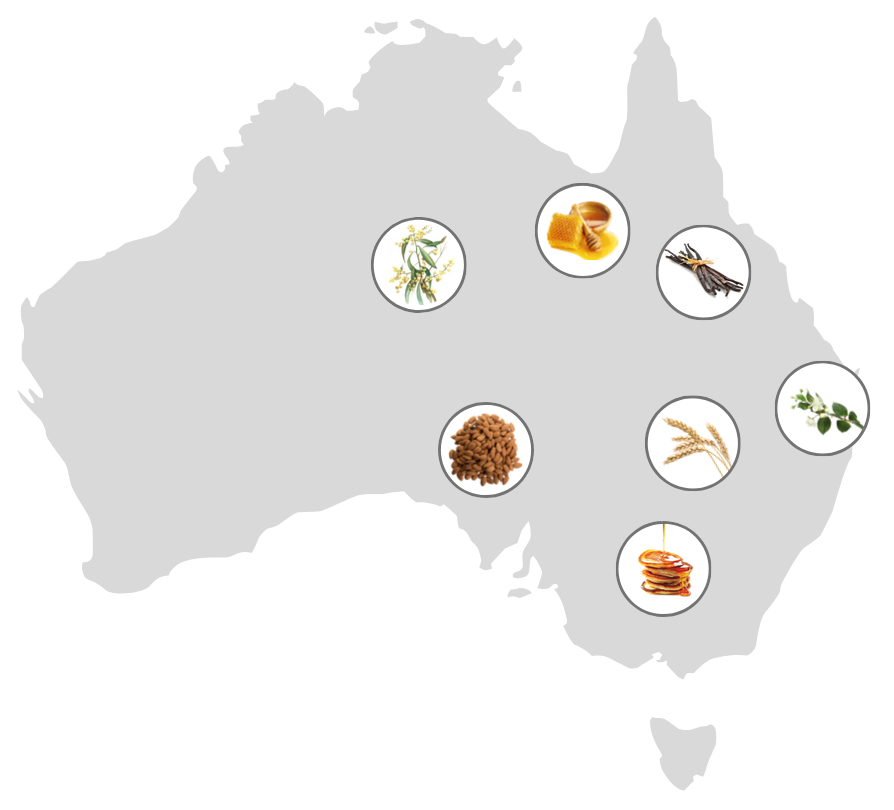 All our ingredients are sourced from Australian owned businesses, ensuring our farmers and small businesses are supported.
Purchased direct from farmers and small businesses across Australia:
Rolled Oats – Country NSW
Oat bran – South Australia
Honey – Country QLD
Almonds, Sultanas, Pepitas, coconut, Sunflower seeds, hazelnuts, walnuts, cashews, Oat bran – SA, NSW & Victoria
Lemon Myrtle – Mid to North Coast NSW
Wattle Seed – Central Australia/ NT
Puffed Quinoa, Buckwheat, Brown Rice, Amaranth – QLD
Vanilla – QLD
Maple Syrup – Victoria
Supporting the Australian Organic Industry
The Unexpected Guest values investing in the future of our families by producing a combination of products that are organic, wholesome, clean and healthy food that is sustainable and protects the environment.
Life is short, make breakfast count
We have carefully selected the finest, nutrient rich ingredients that we hope you enjoy. 
Sugar & Our Health Bars:
We have mindfully chosen to sweeten your Prebiotic Health Bars with Date Paste. Dates are an important source of iron and potassium, so they are a perfect fit for this range. Dates also give a marvellous sticky-binding to our moorish health bars, resulting in a sweet, chewy finish.
A Word On Sugar:
It is important to know the difference between healthy sugars and refined (not so healthy) sugars. Here at The Unexpected Guest we only use natural sugars to sweeten our breakfast products. This includes our healthy treats, and breakfast on-the-go snacks.
These, mineral rich sweeteners include; raw honey, maple syrup, dates paste, dried fruits, and apple.
We do not use Refined white sugar, or Artificial sweeteners in our products.
We believe that the human body processes natural sugars very well. These natural sugars are easily digested, and metabolised efficiently. Refined white sugar, or artificial sweetness on the other hand have proven to cause inflammation and provoke an array of health issues when regularly consumed.
The Unexpected Guest vision is to create a range of Wholesome Snacks
that are bursting with indigenous Superfoods and local produce.

With protein packed organic super-puffs, plump juicy cranberries, sun-dried sultanas,...

The Unexpected Guest believe breakfast should be gutsy, extraordinarily delicious...
Our delicious Prebiotic bars are loaded with plant proteins, dietary fibre, and important nutrients.
There are 3 variety of Health Bars- Oats & Nuts (Organic) plus Wattle Seed and Lemon Myrtle, both are VEGAN Friendly.
Certified organic ingredients.
Hello, I first bought your gluten free muesli yesterday. Dinner last night & brekky this morn.. yummo. Today I'm going back to buy it all to give as Christmas presents. Cannot think of a better gift. Thank you.
WOW! Just tasted your roasted maple syrup almonds. Perfect combination of roast and sweetness! Had to look up your website for GF muesli. Loved the website! Look forward to trying the cereal.
Just wanted to say that I recently had the pleasure in trying your freestyle granuesli! It's great! Great trade mark also. I happen to be a Trade Marks Attorney and adore funky new names, brands and products. Kindest regards
I hope your 2012 has started off with a bang. I just wanted to say thank-you, your products are delightful. The maple roasted almonds were AMAZING, I appreciate you giving me that wonderful treat…. I won't even get started on your granuesli. It was gone in two days.
I absolutely adore your products, I met you and your husband briefly at the Organic Trade Show in Darling Harbour last year. My dad and I went home with some Granuesli and were blown away, I've been meaning to purchase some of the gluten free version for my mother but I'm fairly far from your stockists. Will you be selling any at the show?
Hi, I just wanted to say a big congratulations to the unexpected guest guys and girls for creating such a wonderful organic product, I was so pleased to discover such a fantastic local and organic product. Keep up the good work, I will be sure to spread to word about you products when I return home to the Far South Coast :-). Cheers
Hi, first of all congratulations, love what you make! I'm a happy consumer of your products and was wondering if you make and sell bigger packages, especially of my favorite "thank goodness it's gluten free" as I can find only the 400g version in the shelves at the moment. Thank you for the attention and keep up the good work, have a great day.
Hi there, would just like to pass on that I soooooo love this product. It is the best! Kind Regards
Have just sampled your products this morning and must have them in our store ASAP!! Unbelievably GREAT!! We would love to be a proud supporter of your company. Can we start with a case of the freestyle 500g and a case of the gluten-freestyle 400g. Please let me know your payment details. Have a fabulous day.
Firstly, I would like to say that your gluten free cereal is the nicest on the market. Some taste so horrible they are difficult to eat. I have only recently found out I am sensitive to gluten so am trying to cut it out of my diet which is proving to be very difficult as it seems to be in everything!